Dual Xeon 5520
Server Name: CPU Model: INTEL Dual Xeon 5520s
Server Type: Dual Processor
CPU Speed: 4x2.26GHz
Memory: 16 GB DDR3
Bandwidth: 10TB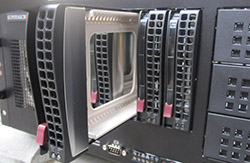 Data Sheet
Cog Hosting operates a number of strategically located, highly automated data center facilities.
Physical Security. Cog Hosting facilities feature a wide-range of advanced security measures, including security guards, biometric access control, man-traps, closed-circuit television, access control systems, locking cabinets and more.
Enterprise-Class Electrical Systems. Cog Hosting facilities feature redundant electrical systems, often are positioned on redundant power grids, and feature generators backed with enterprise-class UPS technology.
Advanced Environmental Controls. Cog Hosting facilities feature industry-leading technologies for maintaining optimal operating environmental control. This includes cooling and humidity control to maintain optimal operations.
Dedicated Server Base Config
---
CPU Model: INTEL Dual Xeon 5520
CPU Cores x Clock Speed: 4 x 2.6GHz with 8MB Cache
CPUs Installed: 2 Installed
Expand up to 2 CPUs
Memory/RAM: 16 GB (DDR3)
Expand up to 96 GB
Hard Drive(s): 1 x 1TB (SATA – 7200 RPM)
Expand up to 4 drives
Disk Controller (RAID): Not Installed
RAID is available on this server.
Outbound Bandwidth Allocation: 10 TB/month
Upgrade and expand as needed.
Inbound Bandwidth Allocation: Unmetered
IP Allocation: 5 IP Addresses
Additional IPs available with justification
Inventory Status: Yes (210 Units)
Deploy in under 60 minutes